Our range of wholesale deli products are sourced from around the world to offer a choice of cooked whole and pre-sliced meats alongside a range of cheeses.  We have Italian sliced prosciutto to the finest French brie, along with UK sourced products.
We are constantly expanding our wholesale deli products and work closely with cheese makers and charcuteries to make sure that only the finest quality produce is selected, allowing us to bring unrivalled expertise and advice to our customers.  We pride ourselves on the quality of our deli range, which includes glazes, specialist pies and pates.
Below is a range of products we can supply, however, our skill and flexibility allow for a completely bespoke offering, should that be required.  Contact our sales team for more details.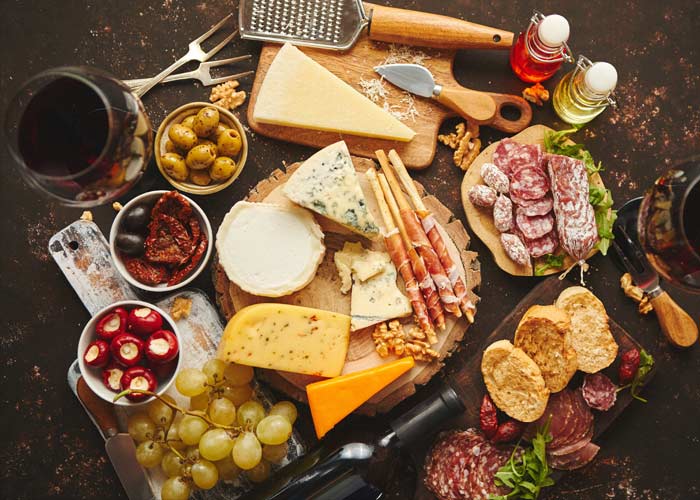 Available Products
Pork Pie – small/medium/large
Pork/Turkey/Cranberry Pie
Samosa – Chicken/Lamb/Vegetable
Health Benefits
Cold cuts can help prevent nutrient deficiencies. They are also high in protein and beneficial vitamins and minerals such as iron, zinc, and vitamin B12. On the flip side, they are high in sodium and some are high in saturated fat
Cheese is a good source of calcium, which is necessary for building strong bones. Meat and cheese provide protein, which is an essential nutrient for maintaining your muscle mass and supporting a strong immune system to fight infections. Iron, zinc and vitamin B12 are other nutrients found in many kinds of cold cuts.
Haggis is quintessentially Scottish and although some people are put off by its description, if you have ever tried it before, you will know just how amazing it tastes.  Haggis is rich in vitamins A, C, B6, B12, Niacin, and vitamin D.  It is perhaps the mineral content that really makes haggis so healthy, it is packed full of iron, magnesium, selenium, calcium, zinc and copper. These minerals contribute towards healthy immunity, they strengthen the bones, they regulate hormone levels, they promote healthy circulation and oxygen transportation, and they can even help lower blood pressure.