Working in partnership with a wide spectrum of poultry suppliers including: British Red Tractor; our own BRC graded factory; Europe and throughout the world, we can tailor to various customers.  From multiple retailers, airlines and food services to high street butchers, we are able to supply tailor made wholesale poultry products to exacting standards.
Our BRC grade poultry processing plant is situated in Poole, Dorset.  It has always been our goal to develop our poultry processing operation into a world case, 'state of the art' facility, supplying outstanding products to a varied and global market.
Complementing conventional wholesale poultry, we also offer a comprehensive range of hand-cut chicken, corn fed Supremes and free-range whole bird, in addition to an increasingly diverse game selection.
Below is a range of products we can supply, however, our skill and flexibility allow for a completely bespoke offering, should that be required.  Contact our sales team for more details.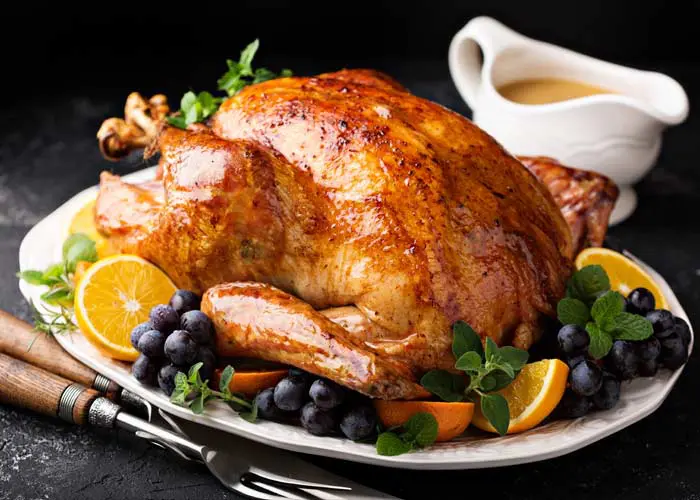 Available Products
Chicken Double Breast – Highbury
Duck Gressingham Wet Plucked Fresh
Turkey Hens – Usk Vale Bronzed Single
Turkey Hens – Usk Vale White Single
Turkey Butterfly – Fresh & Frozen
Turkey Hens – Usk Vale Fresh
Health Benefits
Chicken is highly nutritious and a good source of protein. Adding chicken to your diet may help support weight loss, muscle growth, and bone health.  It is rich in vitamins and minerals, full of phosphorus which supports teeth and bones and has an abundance of selenium, an essential mineral involved in metabolic performance.  Furthermore, chicken in rich in Niacin, essential for healthy tissue growth and also promotes a healthy heart.
Duck meat provides high-quality protein with a variety of non-essential and essential amino acids.  It contains a variety of micronutrients, including iron, selenium, and a small amount of vitamin C and a variety of B vitamins but is particularly high in niacin and B12.  Like other B vitamins, niacin plays an important role in converting carbohydrates into glucose and metabolising fats and proteins. B12 is essential for nerve function, red blood cell formation, and DNA synthesis.  Duck is an animal protein that provides some of the beneficial nutrients common in red meat (such as iron), without as much saturated fat as red meat.  It boosts the immune system, supports thyroid health, protects bones and reduces the risk of heart disease.
Frequently Asked Questions
Do you do free range chicken and what sizes do you do?
Yes, we do, on a pre-order basis.  Whole birds, sizes come as large, medium and small.
What shelf life is there on the Supremes and how many per box?
The shelf life is normally between 7-10 days from kill date.  There are 60 per box, but these can be packed to suit your requirements on request.
Do you do special requests like French trim Supremes?
We can, these would be day 1 for day 3 on special orders.
Is your chicken fillet Halal?
Yes, on certain brands, please contact sales for further details.
What size duck breast and duck legs do you do?
We do male and female breast and legs packed in 5kg boxes.